Another Gen Con is behind us, and I've finally caught my breath enough to present some highlights of what I did and saw this year.
System Mastery Seminar
I'm a fan of the System Mastery podcast, but this is the first time I had a chance to see the hosts in person. Better yet, it was at a live recording of the podcast. I bet I can hear myself laughing on the recording! I really wished I could have stayed to meet Jef and Jon, but had to rush off to another event before this one even ended because it was a 10 minute walk away. Such is Gen Con!
Plot Points Seminar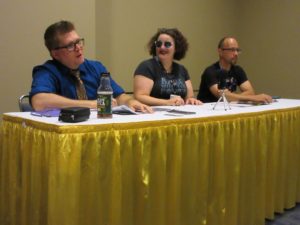 The Plot Points crew: Ben, Sarah, and Brad
Remember what I just said about System Mastery? Same deal. I'm a big fan, but never attended a recording before. (Though I was lucky enough to meet Ben last year and hang out for a while.) This year I got Sarah's business card and chatted with Brad for a few minutes. Wanna know who my favorite is? I'M NOT TELLING!
Monte Cook Games Seminar
This year Monte Cook Games tried something new for their seminar. Instead of sitting on stage and telling us what's coming up, they divided the attendees into small groups and let us talk to pairs of Monte Cook Games folks about whatever we liked. It was pretty cool, and I learned from Monte that they've got Invisible Sun books in the works covering more details about Satyrine as well as more creatures.
Invisible Sun Session
The only game I played at Gen Con this year was a session of Invisible Sun. I've been preparing to run the game for my home group, so I was looking forward to seeing what it's like to play the game. It was fun, though it was strange that none of us ever used our signature character-type abilities. The best thing about the session for me was that it demonstrated that this seemingly-bizarre and outside-the-box RPG is still just an RPG, and plays like one.
The "Strangest Things" Burger
A restaurant called Burger Study ran a Gen Con promotion where they were serving a monstrosity they called the Strangest Things burger. it was a burger with American cheese, peanut butter, and blueberry jam between two Eggo waffles. I am by no means an adventurous eater, but I wanted to try this thing.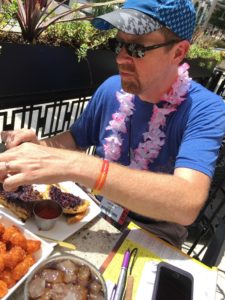 Going in…
It was partially edible! I didn't like the blueberry jam (at all), and it rendered the meat inedible, but I STRANGEly liked the mix of cheese, peanut butter, and Eggo waffle.
Costume Parade
The costume parade on Saturday was an excellent showcase of costumes, as usual. Here I'm sharing my favorite costume of all because I've never seen it done before: Firestorm. He even had simulated flame hair, thanks to a lighted fan blowing a piece of flame-shaped gauzy cloth.
Dungeon Master Interactive Stage Adventure
This was pretty cool…a group of performers acted out a semi-improvised fantasy adventure with the help of volunteers from the audience.
Almost everyone on the right is a volunteer!
Goodman Games Seminar
Some of the things Joseph Goodman and crew talked about at this seminar were the upcoming DCC Lankhmar, the soon-to-launch DCC Dying Earth (now led by the excellent Marc Bruner), DCC module #100 by the also-excellent Harley Stroh, and the upcoming Cthulhu Alphabet book.
After-Hours DCC Gaming
This is the first year I caught a glimpse of the semi-organized off-the-books gaming hosted by Doug Kovacs and some of the other Goodman Games crew. I didn't have time to join a game (because it was late and I value sleep too much), but I loved the atmosphere here, and I hereby vow to game with this gang next year.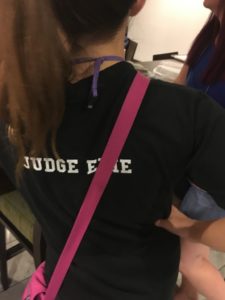 A sighting of the famous Judge Evie!
Exhibit Hall
As usual, I spent most of my time in the Exhibit Hall, though still didn't get to see it all. But I did see Ken & Robin at the Pelgrane booth, saw a lot of my game designer (and editor) friends, and bought too much stuff.
Speaking of buying too much stuff, I was proud to grab the latest Star Trek Adventures sourcebooks by Modiphius and, right next to them, the new Vampire 5th Edition.
That's It
If you'd like to see more of my Gen Con photos, go check out Gnome Stew's Gen Con 2018 roundup, featuring some of my many pictures. (My wife and son make fun of me for taking so many pictures–many of them things I already got pictures of in previous years–but I don't care! It's fun!)